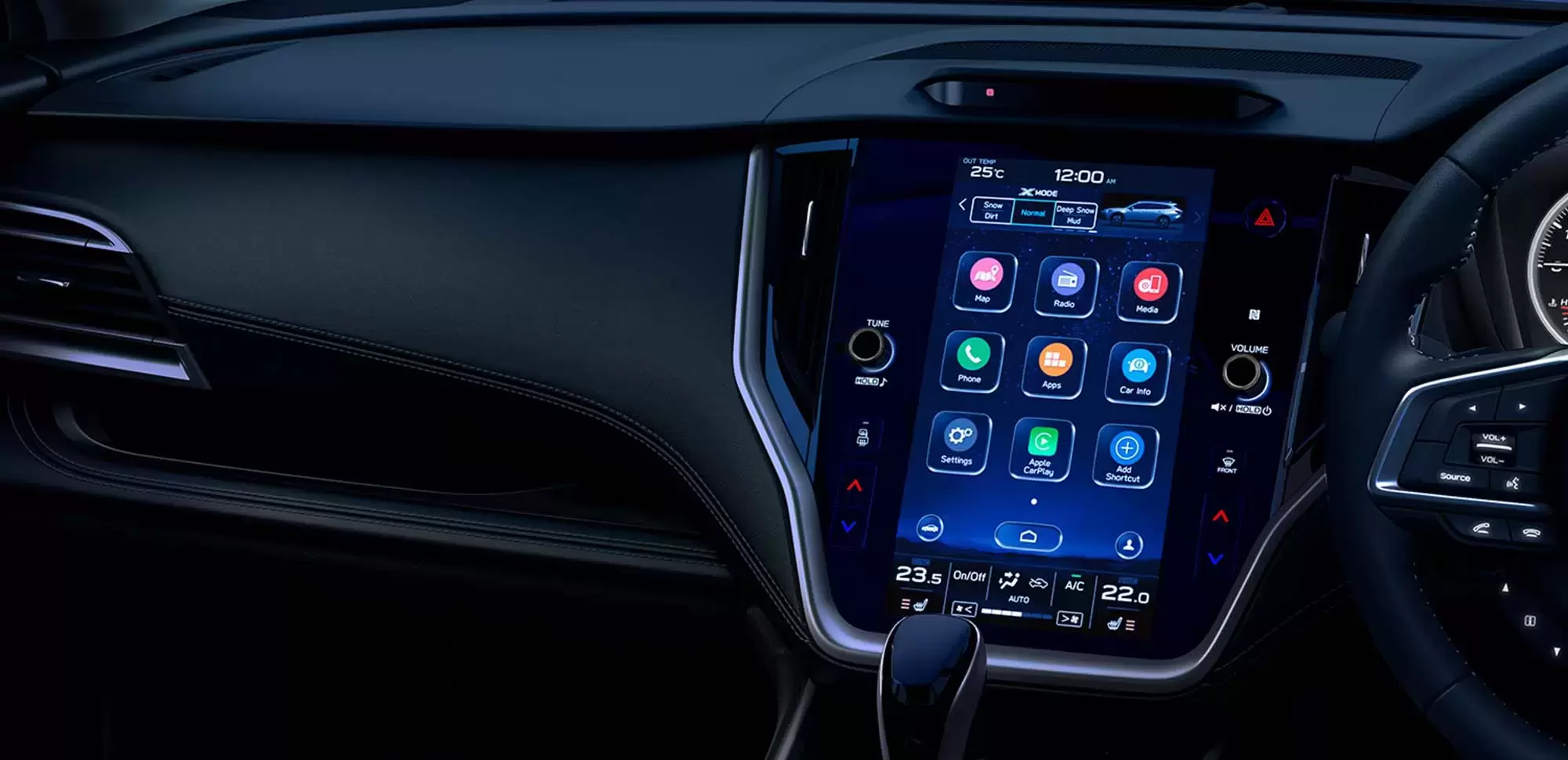 Everything you need. At your fingertips.
Access your car's audio system, make phone calls and set the navigation with ultimate ease.
Explore the benefits of Subaru's Infotainment System:
Touchscreen control
The Subaru Infotainment System can be accessed via a central multi-function colour touchscreen, which provides intuitive control of your car's navigation system, connected devices, audio sources and key vehicle stats. You can also use steering wheel mounted controls to access the infotainment system while you're driving – or simply your voice.
Apple CarPlay™ and Android Auto™
Fitted as standard across the range, Apple CarPlay™ and Android Auto™ mirror compatible apps from your smartphone onto your vehicle's touchscreen, allowing you to make phone calls and dictate text messages hands-free, reducing distractions when you're on the road.
DAB radio
Providing crystal-clear digital sound quality, this gives you a greater choice of stations compared to an ordinary FM radio – with all controls at your fingertips.
Satelite navigation
Subaru's satellite navigation systems are powered by TomTom. As well as displaying clear navigation directions on the central touchscreen, turn-by-turn instructions and distances also appear on screens in the driver's line of vision, to improve visibility while making it even easier to find your way.
Bluetooth
With Bluetooth connectivity, you can pair a smartphone to the Subaru Infotainment System, so you and your passengers can stay connected with family and friends and access your favourite music playlists.
Steering wheel mounted controls
You can use controls mounted on the steering wheel to change audio settings and stay in touch with people effortlessly and safely while driving.
Voice recognition
Voice recognition technology allows hands-free use of various functions of the Subaru Infotainment System – allowing you to keep your eyes and attention on the road. Just tap the steering wheel controls and speak naturally, saying commands to make a phone call, play a song or set a destination in the navigation system.
USB ports
Multiple USB ports are available in your car, so you can connect and charge your smartphone or other devices while you're on the go. A standard AUX jack point is also provided.
Please check model specification for feature availability/details. Model shown may not reflect UK specification.The driver is responsible for safe driving. Please refrain from operating the touchscreen while driving. Apple CarPlay™ and Android Auto™ functionality uses your smartphone's data.