Protect and perform. It's in our DNA.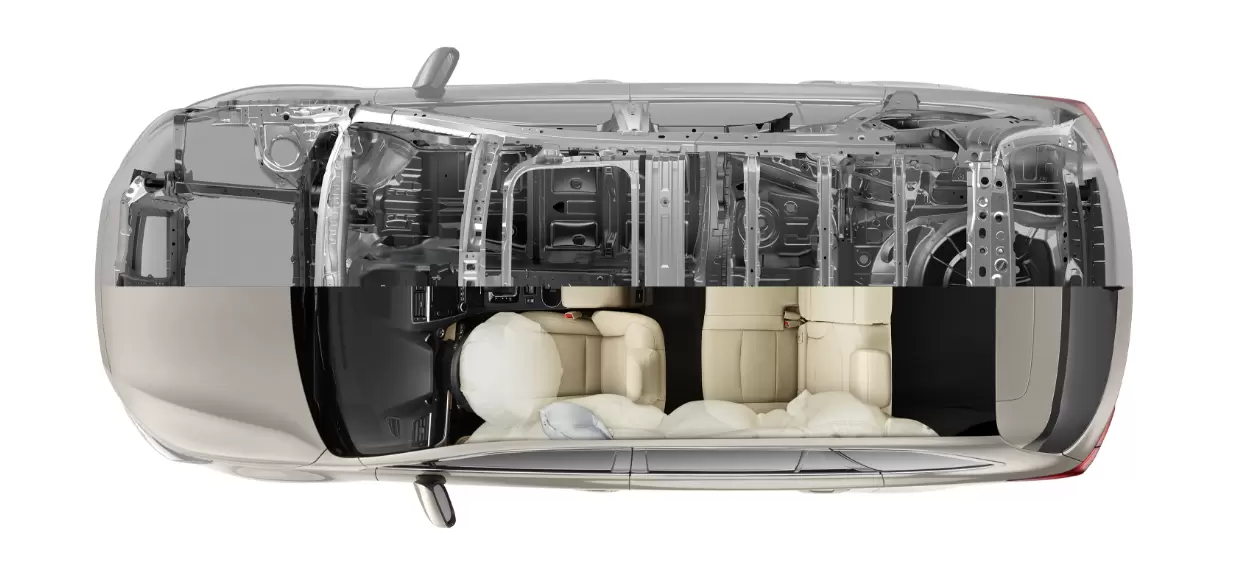 Subaru cars are built to exceed safety expectations and to deliver outstanding capability and reliability in all conditions.
Advanced safety as standard
The safety of you and your loved ones has always been central to the development of our vehicles. We believe world-class safety is essential, not an optional extra – so our cars are fitted with a host of innovative safety technologies as standard. We make some of the safest vehicles on the road today.
Our cars are built to provide the best possible protection for you and your family. We began performing collision tests back in the early 1960s, long before industry-wide crash testing was required. Today, all Subaru SUVs plus Levorg have the maximum 5-star Euro NCAP safety rating.
Our commitment to safety has been recognised by owners too. In 2019, Subaru was voted Best Manufacturer for Safety Features in the Auto Express Driver Power Survey, the UK's number one car ownership survey.
We remain committed to the welfare of passengers, pedestrians and other road users – it's our ambition to eliminate traffic accident deaths involving Subaru vehicles by 2030.
For Subaru, safety is paramount. So advanced safety features come as standard. A range of active safety systems give you the control and confidence to enjoy driving, whatever the weather or road conditions. Meanwhile, passive safety technologies ensure that our cars are designed to give you the best possible protection if an accident is unavoidable.
Discover more
EyeSight
Subaru's EyeSight Driver Assist technology, including Adaptive Cruise Control and Pre-collision Braking, acts like a second pair of eyes on the road – to help keep you informed and safe.
Subaru Global Platform
The Subaru Global Platform (SGP) is the underlying platform that underpins the next generation of Subaru vehicles (Forester, XV and Impreza). It increases the car's body strength by 40%. In the event of a collision, the frame can absorb and safely dissipate more energy. The new frame design also improves energy dispersal, directing more energy safely beneath the seating compartment.
Driver Monitoring System
Subaru's Driver Monitoring System supports safer driving. Should the system detect the driver's eyes shutting or looking aside for an extended period of time, it will trigger audio and visual warnings to attract the driver's attention and restore concentration to the road.
Subaru Rear Wheel Detection
Subaru Rear Vehicle Detection uses sensors to alert you to vehicles in your blind spots, helping you avoid potential collision danger when changing lanes or reversing.
Reverse Automatic Breaking
When your car is in reverse, four sensors on the rear bumper detect obstructions behind the vehicle. If anything is detected, the system can alert you with warning sounds and automatically apply the brakes to avoid a collision or reduce collision damage.
Front and Side View Monitors
Screens within your car can display front and side views from external cameras on your vehicle to aid manoeuvring and parking. The front grille camera monitors a 180° area in front of the car that would usually be in your blind spot. The side view monitor displays blind spots diagonally in front of the passenger side of your car, to help when manoeuvring close to an object, navigating narrow roads, passing oncoming cars or parking. To help you judge distances, guidelines overlay all camera images.
Outstanding capability in all conditions
On road, off road and in any weather, Subarus are built to perform. Thanks to the expert engineering that underpins them, Subaru vehicles are well-known for their relentless capability.
For decades, we've offered always-on Symmetrical All-Wheel Drive as a standard feature. This gives the driver maximum confidence and control by continuously shifting power to the wheels that have the most traction, ensuring excellent road-holding at all times. Combined with a Boxer engine, it delivers outstanding driving performance, however challenging the terrain or conditions.
The highly capable Forester and XV have 220mm ground clearance, to make light work of muddy slopes, rutted tracks and other tricky terrain. Outback offers more driving height than many other estate cars, with 200mm of ground clearance.
For extreme off-road ability, drivers of Forester, XV and Outback can select X-MODE with Hill Descent Control. This makes climbing and descending steep, slippery surfaces controlled, calm and worry-free. When activated, X-MODE takes command of the engine, transmission, Symmetrical All-Wheel Drive, brakes, and other components of your vehicle to provide the best traction and grip in difficult conditions. Hill Descent Control moderates speed and braking for you when going downhill, allowing you to concentrate on steering.
Looking to tow a loaded trailer or caravan? Forester and Outback will relish the challenge. Forester e-BOXER's towing capacity of up to 1870kg is one of the best in its class, due to the smaller battery design and its positioning, which positively influences the weight of the vehicle. And Outback has a towing capacity of 2000kg.
Discover more
Symmetrical All-wheel Drive
Permanent Symmetrical All-Wheel Drive comes as standard on Forester, XV, Outback, Levorg and Impreza. This delivers exceptional traction and control on or off-road and in any weather.
X-Mode with Hill Descent Control
Activated at the touch of a button, X-MODE with Hill Descent Control takes control of traction and grip to give you confidence to tackle the toughest terrain. All you have to do is steer
Ground Clearance
With ground clearance of 220mm on Forester and XV, and 200mm on Outback, your off-road adventures can take you almost anywhere.
Reliability you can count on
Our cars are renowned for their reliability. You can rest assured that your Subaru will deliver driving pleasure for a very long time. Because it's built to do the distance – year after year, mile after mile.
For added peace of mind, we provide a warranty for all our vehicles for 3 years/60,000 miles† – plus an additional battery warranty of 8 years/100,000 miles†† for Subaru e-BOXER self-charging hybrids.
Please check model specification for feature availability/details. Model shown may not reflect UK specification. The driver is always responsible for safe and attentive driving and observance of traffic regulations. There are limitations to the recognition features of Subaru's safety technology. See Owner's Manual for complete details on system operation and limitations.
† 3 years/60,000 miles warranty (whichever comes first).
†† The Traction Battery (Lithium-Ion) is covered by an 8-year/100,000 mile warranty (whichever comes first).